AT&T
High-Speed AT&T Internet Plans
Internet plans starting at $40/mo.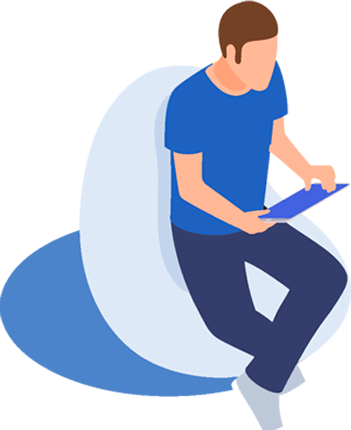 Want To See Deals?
AT&T
High-Speed Internet Plans
Based in Dallas, Texas, AT&T is the largest telecommunications brand in the world. Although AT&T made its name with telephone service, it's also an internet service provider to 9,000+ ZIP codes across the country. AT&T offers speeds ranging from 4 Mbps to 1,000 Mbps through fiber, DSL, or fixed wireless technology, depending on your area.
Why Choose
AT&T?
After Comcast and charter, ATT or AT&T is the third-largest internet service provider in the United States. So, if you are looking for a reliable internet plans in your area, you are more likely to get AT&T's coverage.
The latest stats about the performance of this company are pretty impressive. According to the survey conducted by US News, AT&T has secured the 3rd spot for America's best internet service providers in 2021, 2nd spot for America's best fiber internet service providers in 2021, and 8th spot for America's best internet service providers for gaming in 2021.
AT&T is a giant company. They have been in the electronics and telecommunication business ever since the invention of the first telephone by Alexander Graham Bell in 1876. Today, AT&T has over 100 million customers in the US, who are using their one or more services or products. Whether you want a simple mobile phone, home landline, music streaming service, or internet, AT&T has got all of that.
As long as the internet is concerned, AT&T's spot in the fiber optic field is unquestionable. Their services are available throughout the nation, and reliability is one of their most vital virtues. According to the Federal Communications Commission (FCC), around 80% of AT&T customers get 95% or more internet speed as claimed through their advertisements. They promise to provide 99 percent of reliability rate even when the usage is at its peak.
There is one more perk for being with this company – you can access their wifi hotspots that are spread throughout the nation. It is a great internet deals when you are away from home. When it is about customer satisfaction, The American Customer Satisfaction Index ranks them second in the country based on the reviews and ratings from around 300,000 people.
Let us now dig a bit deeper to understand if this brand would be a great deal for you based on its pricing, speeds, customer services, bundling, and more.
---

Shop AT&T
Plans Now
AT&T Internet 300

300 Mbps




DOWNLOAD SPEED

---

Plan Details - Internet
Set Up - Up to $99 installation cost.
Connection Type - Fiber
Modem Included - w/ WiFi: $10/mo

---

call to order

Call 888-376-0753
-->

What is the fastest speed AT&T offers
AT&T offers speed of up to 1000mbps

Get Started Now
Compare internet service providers for high-speed internet and broadband in your ZIP code.

Frequently Asked
Questions

Get Fast, Reliable Internet with AT&T
If you go over your monthly data allotment, HughesNet won't cut you off or charge you fees. However, it will reduce your internet speed until the next billing cycle. Be sure to choose a plan that includes enough data so you don't experience data throttling.

Customer
Reviews
(300 Reviews)
"AT&T has been really reliable and fast I love it."
Bil Johnson
(300 Reviews)
"its very good"
test test

Got a question?
We have the answers. Get in touch with the KonectEaze team now.